About Fab Tec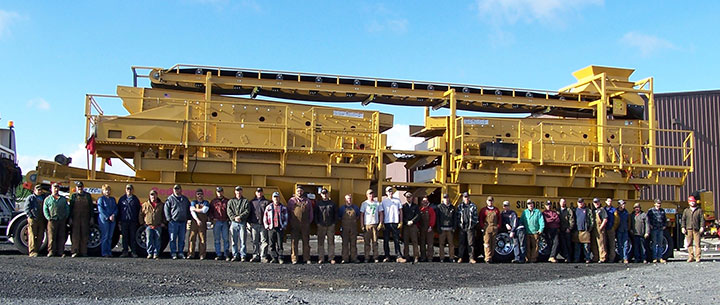 From south of the small town of Moscow Idaho, Fab Tec, Inc. produces portable aggregate processing machinery. In its humble beginnings with only four employees, working from a rented shop, no one would have imagined that a decade later there would be over forty employees working in over 30,000 square feet, and producing equipment for companies all over the world.
Most of Fab Tec's sales come from the United States, Canada and Mexico, but we have equipment working in Central and South America, Africa, and Asia.
Fab Tec is a family owned and operated business nestled in the rolling hills of the Palouse. Doug Church, the founder of Fab Tec was the inspiration of the company and wanted only the best for his employees (associates) and end users.
His goal was to build equipment that everyone would take pride in. After his passing in November of 2011, the three sons, Frank Church, Doug Blevins, and Barry Blevins have steered the company in his place to insure his dreams would continue.
Fab Tec is surrounded by fields that are the driving force of the area economy. The Palouse is known for its production of wheat, barley, peas and lentils. Since most of its sales are to companies outside of the area, many people that live here are unaware that Fab Tec exists. Moscow does not have many of the resources that are required to support Fab Tec's industrial needs, so many of the supplies we consume come from Spokane Washington, or Lewiston Idaho. Fab Tec's goal is to produce durable, quality machinery. We take pride in our workmanship and we are known for our rugged designs.
With the help of dealers across the United States, Fab Tec has become a well known name for quality built equipment.
Office Staff
Frank Church: President/Sales email
| | |
| --- | --- |
| Barry Blevins: VP/Supervisor email | Doug Blevins: VP/Supervisor email |
| Clint Colvin: Designer/Draftsman email | Jeff Currey: Estimator/Sales Administration/Drafting email |
| Roy Lathen: Purchasing/Parts & Service email | Jamie Capps: Office Manager email |